<<Russian tuning the most expensive Porsche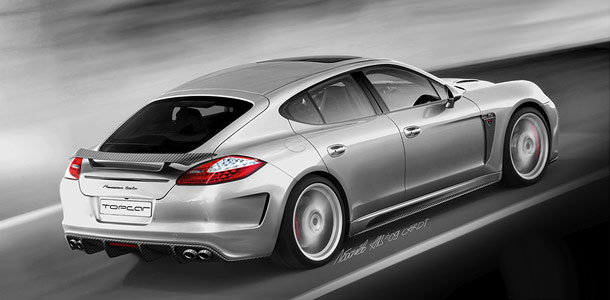 A few Russian tuners rarely indulge us with the finished product. More rarely come across really worthy specimens. One of these - the new Porsche Panamera Stingray.
For most Russian car owners "Russian tuning" is reduced to nine tinted with "xenon" once-through silencer and a large rear wing on the trunk lid. For most Western motorists "Russian tuning" means tasteless design, but expensive car that attracts attention on the road, but not always evoke positive emotions. About functionality or improve the performance characteristics of the car, and it often does not.
Nevertheless, the Russian master periodically create a harmonious and quite stylish cars based on production models of foreign manufacture. For example, recently one of the Russian companies showed a modified Subaru Impreza WRX STI, the development of which the authors of the project all the attention was focused on the sporting quality and functionality of the model, not on the outside effectively.
Another good example of "Russian tuning" is ready to show the company TopCar, working on finalizing the exterior of expensive cars. In the "portfolio" of company Tuning Porsche, BMW, and Bentley.
The latest development of the company is the Porsche Panamera Stingray, based on the latest body of the Stuttgart motor companies. TopCar recently unveiled the first images of cars that will represent Russia at the most important tuning show Essen Motor Show 2009.
The difference from the series "Panamera" will be the aerodynamic kit, developed by the company. For example, the "Russian" Panamera will receive additional air intakes, including two "nostrils" on the hood, carbon fiber front spoiler, the fixed rear spoiler (in the serial car he extends automatically at high speed or on command of the driver), rear diffuser, and, of course, a new front bumper and side "skirt". By the way, almost all the parts are made of carbon fiber, including the inlays on the side air intakes, cooling the front brakes. Lightweight material not only looks impressive, but does not add extra weight to the weight of the car. After the engine "Stingray" serial remain.
www.dni.ru
Original article: http://www.dni.ru/auto/2009/9/7/174407.html